2018 BEARLS Academe Awards for the Principles of Community
The Academe Awards for Principles of Community, a.k.a the BEARLS, recognize achievements in nomination categories drawn from the UC San Diego Principles of Community.  This program aligns Tritons' most cherished values with Hollywood-style accolades to promote social change at home and around the world.
Warren College as we honors members of the UC San Diego community for excellence in the following five categories:
Rejecting Acts of Discrimination
Championing Freedom of Expression
Celebrating All cultures
Resolving Conflict Constructively
Promoting Individuality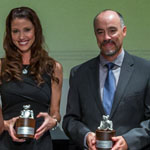 Highlights of the evening include DC Comics artist and recipient of the 2018 Distinguished Alumni Award, Alex Sinclair, and 2018 Earl Warren College Humanitarian Award winner Shannon Elizabeth, who has pivoted from a multifaceted career as a reality TV star on Celebrity Big Brother and Season 6 of Dancing with the Stars, as a Hollywood actress, and as an international poker champion, to devote herself full-time to charity work helping to save the endangered rhinoceros population in Cape Town, South Africa.
>
Animal Conservation and Civil Discourse 
A special panel on animal rights, conservation and captivity
Thursday, March 8, 2018
11:00-1:00 pm
Calit2 Auditorium

Join us for a panel on animal rights, conservation and captivity with the winner of the 2018 Earl Warren Humanitarian Award Shannon Elizabeth, Hollywood actress and Celebrity Big Brother cast member and animal rights activist who currently works with endangered rhinos in South Africa through her charity, Animal Avengers, and her foundation, Rhino Review. The panel of animal experts also includes:
Dr. Shermin de Silva -  President & Founder, Trunks & Leaves, a non-profit for Asian Elephants
Prof. Pascal Gagneux - Departments of Pathology and Anthropology, UCSD
Prof. John Hildebrand - Scripps Whale Acoustic Lab, Scripps Institution of Oceanography, UCSD
Prof. Kaustuv Roy -  Section of Ecology, Behavior, and Evolution, UCSD
Dr. Oliver Ryder - Kleberg Endowed Director of Conservation Genetics, San Diego Zoo Global
Dr. Judy St. Leger, DVM - Vice President of Research & Science, SeaWorld Parks & Entertainment 
Moderator Prof. Emily Roxworthy - Provost of Earl Warren College, UCSD
This event is hosted by Earl Warren College at the University of California San Diego, in collaboration with Sea World, The San Diego Zoo, and the Scripps Institution of Oceanography.
Download PDF Event Flyer
For more information about the Warren College Academe Awards program or nominations, contact waprovost@ucsd.edu.