2020 BEARLS Academe Awards for the Principles of Community
Each year, Warren College produces a Hollywood-style awards show that honors individuals or groups from across campus who exemplify the UC San Diego Principles of Community. Students, faculty, and staff from all colleges and all disciplines are eligible. The Academe Awards for Principles of Community, affectionately known as the BEARLS, rolls out the red carpet to honor a celebrity humanitarian, a distinguished alumnus, and campus nominees in the following five categories:
Rejecting Acts of Discrimination
Championing Freedom of Expression
Celebrating All cultures
Resolving Conflict Constructively
Promoting Individuality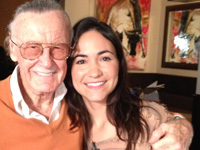 America Young
Actress, Director, and Chimera Project Co-founder and President
America Young may be best known as the voice of Mattel's animated Barbie, but she is also an accomplished film director (Electoral Emissions, Girls! Girls! Girls! and The Concessionaires Must Die) and actor. In addition to an impressive body of professional work for such a young person, America was selected as the 2020 Earl Warren College Humanitarian Award because she is the founder of the Chimaera Project, a non-profit organization that empowers female filmmakers in order to revolutionize hiring practices in the movie industry.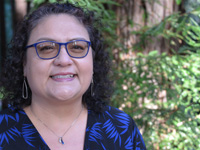 Alex Belisario
Senior Director, College Student Life - Crown and Merrill Colleges

Alex Belisario was born in Chicago, IL to immigrant parents Alex and Erica (from the Phillippines and Switzerland respectively) who met at a wedding. She is the eldest of 4 children who look shockingly alike given none of them are twins or triplets. 

Alex and her family moved westward throughout her childhood, finally calling San Diego home. When applying to college, Alex only applied to UC San Diego and UC Santa Cruz. She ended up choosing Warren College at UCSD (go Tritons)!

J. Kevin Wood helped Alex to discover her career calling. Alex came to Warren to study Applied Mathematics in the hopes of becoming a high school math teacher, but after Kevin invited her to join the Resident Dean's Advisory Committee (RDAC), a new path was found and the rest is history! Alex is the Senior Director, College Student Life for Crown and Merrill Colleges at UC Santa Cruz (go Slugs). 

In her free time, Alex enjoys fostering and snuggling kittens, tactile doodling with yarn and paper, enjoying foodie adventures (attempting to recreate and improve recipes from the internet or discovered on her travels and taking lots of photos), waiting for the next season of the Mandalorian, volunteering for WACUHO (the Western Association of College and University Housing Officers), and presenting at San Diego Comic Con. Her dream is to one day own a kitty cafe where she will combine her loves of baking and kitties.
Rejecting Acts of Discrimination
Sonia Rosado & LeRoy Ford, John Muir College Residence Life
Susan Rinaldi, Teaching + Learning Commons
Melinda Owens, Assistant Teaching Professor
Championing Freedom of Expression
Karen Gocsik & Holly Bauer, Analytical Writing Program
Karen Dobkins, Professor of Psychology
Mark Holton, Student, Earl Warren College
Celebrating All Cultures
David Saide, International Students & Programs Office
Paris Eisenbeiss, Student, Earl Warren College
Colors of the Brain, UC San Diego Student Organization
Resolving Conflict Constructively
Syreeta Nolan, Student, Earl Warren College
Green New Deal at UC San Diego, UC San Diego Student Organization
Hercilia Corona, Psychologist, Counseling & Psychological Services

Promoting Individuality
David Artis, Office of Academic Enrichment Programs
UC San Diego Basic Needs Committee
Warren College Writing Program 100, Sec B00
For more information about the Warren College BEARLS: Academe Awards program or nominations, contact waprovost@ucsd.edu.