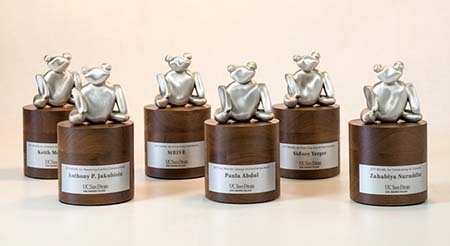 The BEARLS Trophy
All winners receive the coveted BEARLS trophy, a custome sculpture award created by Bennet Awards
Each year, Warren College produces a Hollywood-style awards show that honors individuals or groups from across campus who exemplify the UC San Diego Principles of Community. Students, faculty, and staff from all colleges and all disciplines are eligible. The Academe Awards for Principles of Community, affectionately known as the BEARLS, rolls out the red carpet to honor a celebrity humanitarian, a distinguished alumnus, and campus nominees in the following five categories:
Rejecting Acts of Discrimination
Championing Freedom of Expression
Celebrating All cultures
Resolving Conflict Constructively
Promoting Individuality
For more information about the Warren College BEARLS: Academe Awards program or nominations, contact waprovost@ucsd.edu.