Honors Society
The Honors Society at Warren College promotes scholarship, leadership, and academic integrity by providing high-achieving students with academic and co-curricular enrichment programs. Warren College Honors students have the opportunity to participate in events designed to broaden intellectual interests and develop interpersonal skills. Events are open to all honors students and provide opportunities to experience San Diego, both on campus and off. Membership is automatic based on cumulative GPA; there is no application or dues.
Honors Council
Students interested in taking an active role in developing the Honors Society are encouraged to participate in the Honors Council. The group provides overall direction for programs and events and assists with logistics and implementation. Meeting times change each quarter based upon student schedules. Interested students should email the Honors Society Coordinator.
Undergraduate Research at UCSD
Undergraduate research opportunities abound at UCSD. By engaging in research, you will develop practical skills that will make you more competitive as you pursue a career or move into graduate or professional school. Students may receive academic credit for research by enrolling in courses numbered 99, 197, 198, or 199. A limited number of paid research positions are also offered. Students who meet the eligibility requirements are encouraged to apply for a Warren College Undergraduate Research Scholarship.
Campus-Wide Events
Each year the Warren College Honors Society participates in Triton Day and Transfer Admit Day. Triton Day is an event designed for all newly admitted freshmen held in April; Transfer Admit Day is an equivalent event for transfer admits held in May. Contact us if you would like to volunteer at the Triton Day or Admit Day events.
To qualify as a member of the Warren College Honors Society, you must meet the criteria listed below. If you meet the eligibility requirements, membership is automatic (no application or fee is required). Membership is recalculated each quarter during the academic year. All activities and programs are optional. 
Incoming Freshmen:
3.8 High School Cumulative GPA plus qualifying SAT or ACT test scores

Scores of 700 or above on the SAT I Critical Reasoning, Quantitative, and Writing sections
Scores of 31 or above on the ACT English, Reading, Math, and Writing sections
Transfer Students:
Complete at least 12 UCSD graded units and maintain a minimum cumulative UCSD GPA of 3.7 or above
Continuing Students:
Complete at least 12 UCSD graded units and maintain a minimum cumulative UCSD GPA of 3.7 or above
At the beginning of each quarter, students who qualify for membership will receive a welcome newsletter to their UCSD email account.  The newsletter will contain information about the upcoming Honors Society events.  If you do not receive the email but believe you are qualified for admission to the Honors Society, email the Program Coordinator to check your status.
Fall Quarter 2018 Events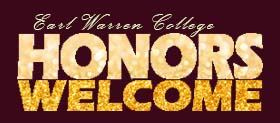 Honors Society Welcome Lunch
October 16, 2018
12:00-1:00 pm
Price Center
Early in Fall Quarter honors students will be sent an email invitation to attend this inaugural event for the Warren Honors Society. You will have an opportunity to meet fellow honors students, enjoy lunch, and learn more about the Honors Society and Honors Council.  Space is limited and RSVP is required.
In addition to qualifying for membership in the Warren College Honors Society, students can earn other types of honors at UC San Diego.  Membership in the Warren College Honors Society does not guarantee students will receive other honors and some students may receive the honors listed below without qualifying for membership in the Warren College Honors Society.
Department Honors
Some academic departments at UCSD offer accomplished upper-division students the opportunity to conduct honors-level research or to enroll in an honors-level seminar. Eligibility to participate and recognition of honors achievement varies by department. For more information, contact your major department.
Latin Honors at Graduation
Students are eligible to graduate with Latin honors by completing a minimum of 72 graded UC units and earning a minimum cumulative GPA.  Eligibility is calculated based upon the GPAs of the previous year's graduating class.
Phi Beta Kappa
The Nation's Oldest and Most Widely Known Academic Honor Society, Phi Beta Kappa , was founded at the College of William and Mary in 1776, during the American Revolution. For over two and a quarter centuries, the Society has embraced the principles of freedom of inquiry and liberty of thought and expression. Laptops have replaced quill pens, but these ideas, symbolized on Phi Beta Kappa's distinctive gold key, still lay the foundations of personal freedom, scientific inquiry, liberty of conscience and creative endeavor.  Top students will be invited to join in their junior or senior year.
Provost's Honors
Students may earn Provost's Honors each quarter. Eligibility is determined by enrolling in a minimum of 12 graded units per quarter and earning a minimum 3.5 UCSD GPA. Provost's Honors are designated on your academic transcript.  For more information, contact the Warren College Academic Advising Office.