We Are First-Generation at Warren College
If you are among the first generation in your family to attend College, that is something to be proud of and we are excited to have you as a member of the Warren community! At Warren, there are many people ready to assist in making your undergraduate experience successful. 
When you walk through Warren College, you will see many staff with signs on their doors or wearing apparel that indicates that we are first gen college grads and supporters.  We know the effort it takes to navigate university life first hand and are here to support you. 
Join the Community!  Join the Conversation!


We invite you to connect with us as we 
Return to Learn
!  Be sure to check your UC San Diego email for our first gen newsletter - the source where you can easily find support, a chance to connect to other students, and resources.  
First Lady Michelle Obama: "I'm First"
UC San Diego defines first-generation college students as students with neither parent having a four-year college degree. Typically the first gen distinction is determined by the UC Admissions process, but here at Warren we invite anyone who may identify with any aspect of being a first generation college students to participate and attend our community events!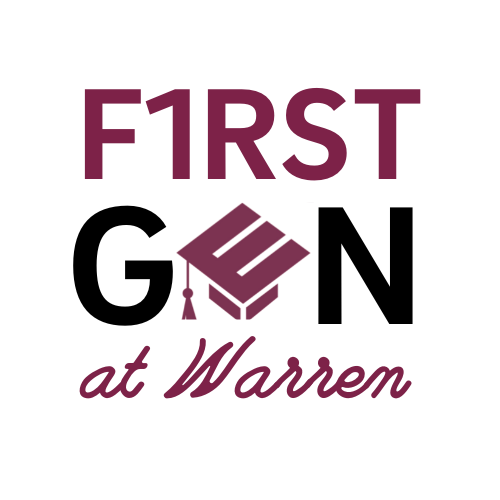 Name
Title
UC San Diego Email
Adriana Campuzano*
Program Assistant at Warren Residential Life
acampuzano@ucsd.edu
Amado Berios*
Senior Academic Advisor
aberrios@ucsd.edu
Belinda Herrera*
Program Assistant at Warren Residential Life

bherrera@ucsd.edu

James Chapshaw Smith
Dean of Student Affairs
jcapshaw@ucsd.edu
John Cavoulas
Academic Advisor
jscavoulas@ucsd.edu
Marisa Abrajano
Provost
mabrajano@ucsd.edu
Mark Young
Lecturer / Warren College Writing Program
mtyoung@ucsd.edu
Michelle Mkhlian*
Program Assistant
mamkhlian@ucsd.edu
Nashaya Ross
Academic Advisor
nrross@ucsd.edu
Norma Pacheco
Academic Advisor
npacheco@ucsd.edu
Saniesa Thomas*
Student Care and Accountability Specialist
sat038@ucsd.edu
Xally Alvarez
Assistant Academic Advisor

xaalvarez@ucsd.edu

David 

Nuñez 

Program Assistant

dnunez@ucsd.edu

Tina Ke
Academic Advisor
tike@ucsd.edu
Tracy Cruz*
Assistant Dean of Academic Advising
tlcruz@ucsd.edu
* Denotes member of the Warren First Gen Committee.  Feel free to reach out for more information about the Warren First Gen Programs.
UC San Diego has several campus-wide resources for first-generation students that we encourage you to take a look at:
Academic Resources:
The
University of California system
also has information and resources available.