First Year Experience at UC San Diego
Freshmen Experience Program (WARR 1) and Transfer Experience Program (WARR 2) are exciting 2-unit courses designed to help new students get the most out of their first year at UC San Diego and become more engaged and informed students. Learn more about UC San Diego's First Year Experience Program. 
How to Enroll?
Log into Web Reg 
Select WARR1 (Freshmen) or WARR2 (Transfer) 
Questions: Contact Warren Academic Advising via the Virtual Advising Center (VAC) 
WARR 1, First Year Experience 
Receive practical advice about student life and educational strategies for success
Get connected to Warren college and campus resources, as well as research and involvement opportunities campus-wide
Learn from faculty who are committed to supporting your transition to college life
Interact with upperclassmen (discussion leaders) who remember what it is like to be a new student
Meet other new students
WARR 2, Transfer Experience 
Receive practical information on how to further your academic and career goals
Learn about transfer-specific resources and opportunities
Get connected to Warren college and learn about ways to get involved on campus
Learn from faculty who are committed to supporting your transition to UCSD
Interact with student leaders who remember what it was like to be a new student 
Meet other new transfer students 
Learn more about the First Year Experience program: fye.ucsd.edu  
Opportunities, Challenges, and Expectations of University Life
Making the Most of the Classroom
Academic Integrity and Research Literacy
Personal Well-being and Academic Success
Enhancing Your Communication Skills in the Classroom
Diversity, Equity, and Inclusion: Understanding Yourself and Others
Campus and Community Involvement
Research Opportunities, Experiential Learning, and Faculty Engagement
Choosing and Committing to a Major
Lessons Learned and Planning Forward
Awareness of internships, research opportunities, study abroad programs, and more
More effective research and study skills
Stronger time management skills
Increased confidence interacting with faculty
Increased awareness of how personal well-being impacts academic performance
Enhanced communication skills
More information about choosing a major and minor 
Exposure to topics that address diversity and social justice
Solid understanding of expectations about academic integrity
WARR 2 (Transfer Experience)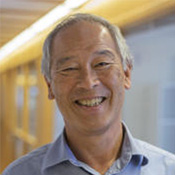 Professor Stefan Tanaka
Stefan Tanaka is a Professor in the Department of Communication and Director of the Laboratory of Comparative Human Cognition (LCHC).  Learn more about his background and area of interest on his faculty profile.

For inquiries, contact fye@ucsd.edu.