2017 BEARLS Academe Awards for the Principles of Community
Every year Warren College honors individuals or groups who exemplify the UC San Diego Principles of Community.  The BEARLS, an Oscars-equivalent recognition program, honors five members of the Warren College community for excellence in the following five categories:
Rejecting Acts of Discrimination
Championing Freedom of Expression
Celebrating All cultures
Resolving Conflict Constructively
Promoting Individuality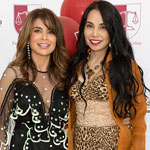 Highlights of the evening include distinguished alumna and recipient of the 2017 Warren College Alumni Award, Dr. Tess Mauricio ("America's Favorite Dermatologist"), who will also be presenting The Earl Warren College Humanitarian Award to celebrity Paula Abdul. The world knows Emmy-, Grammy- and American Music Award-winner Paula Abdul as an entertainer/entrepreneur who sings, acts, dances and designs. America knows that she has one of the kindest hearts in all of Hollywood from her time judging American Idol and So You Think You Can Dance.
For more information about the Warren College Academe Awards program or nominations, contact waprovost@ucsd.edu.